Cub Cadet - Zero Turns - Zero Compromise!
Cub Cadet, the proven innovator of zero-turn technology, has created the industry's strongest line up of zero-turn mowers with both lap bar lever steering, and steering wheel with four-wheel Synchro Steering.
Synchro Steering technology lets you easily mow around obstacles with incredible confidence. With four-wheel steering controls, you have more stability, control, and faster cutting times, especially if you are mowing steep terrains. Tackle challenging hills and/or steep slopes up to 20 degrees with the Cub Cadet Ultima ZTS or Z-Force range.
Steering Wheel / Lap Bar / Commercial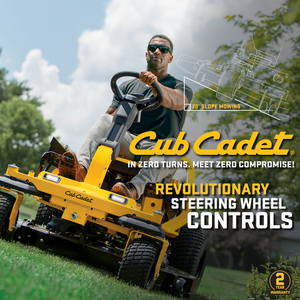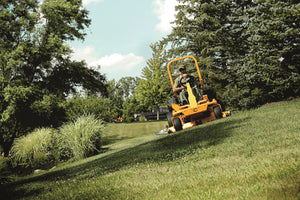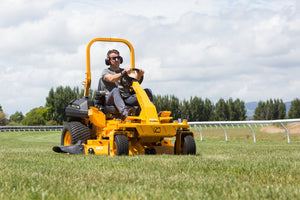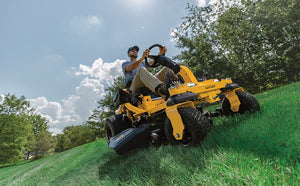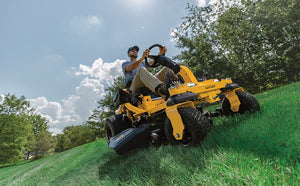 Ultima Commercial
View Products
PRO Z Commercial Series
View Products
Mow Today, Pay Later
No Deposit, No Interest, No Payments until 2024 with GEM Visa. Long term finance options also available through MTF Finance.
Approved purchasers only. T&C's and Fees apply.
Apply Now
Revolutionary Zero Turn
Lap bars are the traditional tried and true method of operating a zero-turn mower, but they're not the only option. The Ultima ZTS brings Cub Cadet's innovative Synchro-Steer® technology to the proven Ultima Series platform with the ease of using a steering wheel. 
Synchro Steer Technology
Synchro Steer technology is unique to Cub Cadet's zero-turn range, and provides unbeatable handling, especially on steep terrain. Tackle challenging hills and steep slopes up to 20 degrees with the new ZTS Ultima range.  
Ultimate Command Centre
Experience the ultimate command centre, with a fully adjustable high-back comfort seat with armrests, Ergonomic Handles thatpower a commercial-grade engine to provide you with the ultimate combination of comfort, power and speed.
Best in Class Cut Every Time
With an AeroForce™ fabricated deck that has been tested and proven to deliver the best-in-class cut with optimised airflow and maximised suction to eliminate clumping during discharge.Fully fabricated AeroForce™ decks, ranging from 42" to 60" inch, to stand up against the tough kiwi terrain while delivering the best-in-class cut.