Cub Cadet - New Zealand's Leading Rideon Mower Brand
Built-in America since 1961, Cub Cadet is New Zealand's leading ride-on mower brand.
Cub Cadet features strong cutting systems and refined ergonomics for style, strength, and comfort. These ride-ons are equipped with the industry's best and most reliable engines from Kawasaki, Kohler, and Cub Cadet.
For Kiwis looking to buy a new ride-on, Cub Cadet offers a wide range of versatile and durable products at competitive price points, from rear catching models, side discharge models, battery-powered models, to zero-turn models for domestic and commercial usage.
With optional mulch kits available on most models, and backed with a strong two-year warranty, Cub Cadet is the perfect solution for your next ride-on! 
Drive it... we DARE YOU!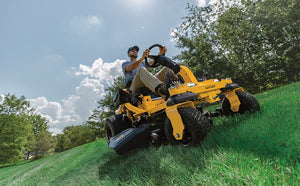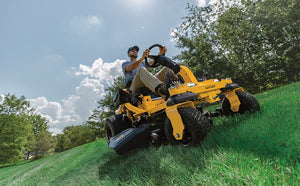 Rideon Mowers
The best ride on mowers you can buy. Premium comfort, usability and build quality. Built tough for reliable performance year after year.
View the Range
Zero Turn Mowers
Innovation, strength and precise steering control. Built from the ground up with advanced technology for safe handling especially on slopes.
View the Range
Commercial Mowers
All day every day comfort and performance. Professional mowing solutions for contractors and large area property owners.
View the Range
Electric Mowers
Clean & green electric mowers. No Fuel, no emissions while mowing, low noise, low maintenance and easy to use. Simplify your mowing.
View the Range
Parts & Accessories
Genuine and after-market parts and accessories available to keep your mower in top running condition.
View Products
Mow Today, Pay Later
Up to 18 months interest free, no deposit, no interest terms with GEM Visa. Long term finance options also available through MTF Finance.
Approved purchasers only. T&C's apply.
Apply Now
Strength and Durability
Cub Cadet Enduro Series is designed to give you unmatched strength, durability and are packed with performance features that you will appreciate. 
View the Enduro Range
Safety and Stability
Mow with confidence. Cub Cadet's innovative Synchro-Steer™ Technology provides enhanced precision and control while you mow. Safely mow with less overlap and adjusting, even on slopes up to 20 degrees, saving time and keeping you safe. On average, steering wheel zero turn control can save you 10 percent of your mowing time compared to a lap bar model.
View the Zero Turn Range
Peace of Mind
Cub Cadet Enduro Series are equipped with a range of high-quality premium engines from Kawasaki, Kohler and Cub Cadet, recognised as the best and most reliable engines available on the market.  
All Cub Cadet models are backed with a Full 2 Year Warranty. With outstanding Service Agent support available across New Zealand, Cub Cadet is New Zealand's Leading Ride-On Mower Brand for a reason!