Cub Cadet - XT Enduro Series
Comfort and efficiency perfectly combined. Looking like the stereotypical ride-on, the Cub Cadet Lawn Tractor is the best compromise between performance and c ost. More compact than the zero-turn range, they are easy to store in a garage or a shed and have plenty of power and maneuverability for any backyard, all without breaking a sweat like you would with a push mower. With redefined comfort, strength, speed and control; Cub Cadet will get you the best in class signature cut every time.
Side Discharge / Rear Discharge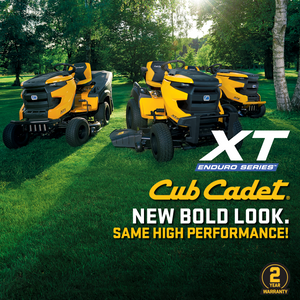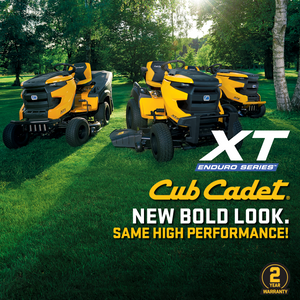 Cub Cadet LX46
View Product
Cub Cadet 1023RD
View Product
Mow Today, Pay Later
No Deposit, No Interest, No Payments until 2024 with GEM Visa. Long term finance options also available through MTF Finance.
Approved purchasers only. T&C's and Fees apply.
Apply Now
Cub Cadet Signature Cut
Experience the best cutting systems that feature both stamped and fabricated decks built with materials that deliver a consistent premium quality cut every time. Fabricated decks are perfect for kiwi lifestyle block owners with rough terrains. 
Responsive Handling
Cub Cadet offers the best steering system and driving mechanics featuring easy and simple controls for great control. Manoeuvre through difficult terrains and obstacles with ease. 
Peace of Mind
Cub Cadet Enduro Series are equipped with a range of high-quality premium engines from Kawasaki, Kohler and Cub Cadet, recognised as the best and most reliable engines available on the market.  
All Cub Cadet models are backed with a Full 2 Year Warranty. With outstanding Service Agent support available across New Zealand, Cub Cadet is New Zealand's Leading Ride-On Mower Brand for a reason!